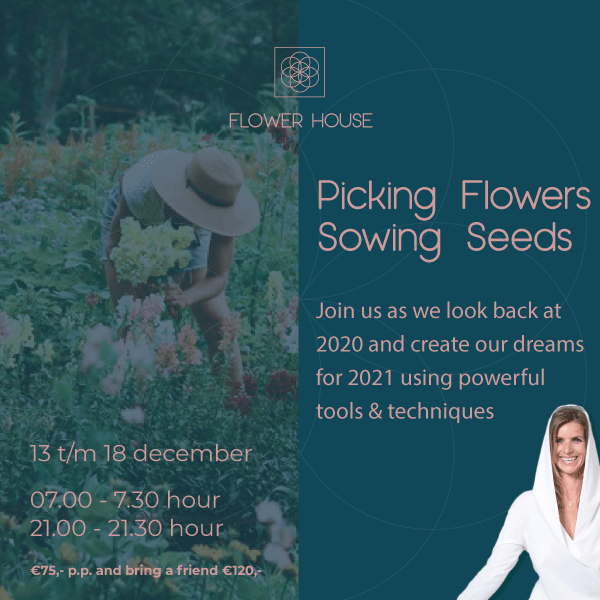 Picking Flowers and Sowing Seeds
No doubt 2020 so far has been a very special year.
These changes and uncertainty may lead to stress, loneliness, depression or worse.
In my experience there is always a gift to be found in every situation.
From 13 – 18 December we will look back at 2020. Looking for the gifts and picking the flowers. We will also look ahead, sowing the seeds for 2021.
We will be working with powerful tools and techniques that I have worked with over the years.
Moving the body and consciously controlling mind and emotions using tools like a yoga, breathwork and a daily contemplation. In the evening we will close the day with a gratitude meditation and the week with a powerful tool to create your dream 2021.
As an extra option to dive even deeper a Sacred Ceremony can be added to the program.
You are so welcome!
Sacred Plant Ceremony
6 (Private), 15, 28 (private) November and 4, 12, 20 December
Together we create the world in which we live.
We weave the web together.
During this ceremony we connect in vulnerability and openness.
We come together out of the need to feel an answer to all current developments in the world.
Acting instead of reacting.
Your Innerworld reflects your Outerworld.
How do you want the world / your world to look like?
Next ceremony dates are 6 (Private), 15, 28 (private) November and 4, 12, 20 December.
Afke Reijenga, Elkske Falkena en Nienke Schipper-Pauw facilitate sacred plant ceremonies, where we connect with our heart, nature, plant medicine, music, song and each other.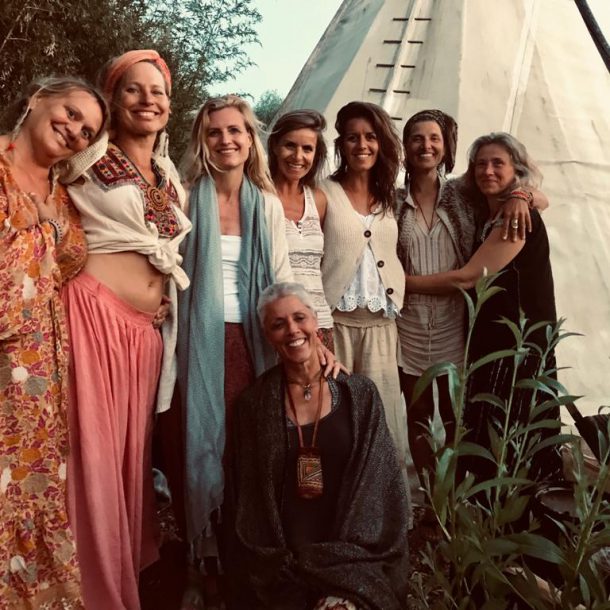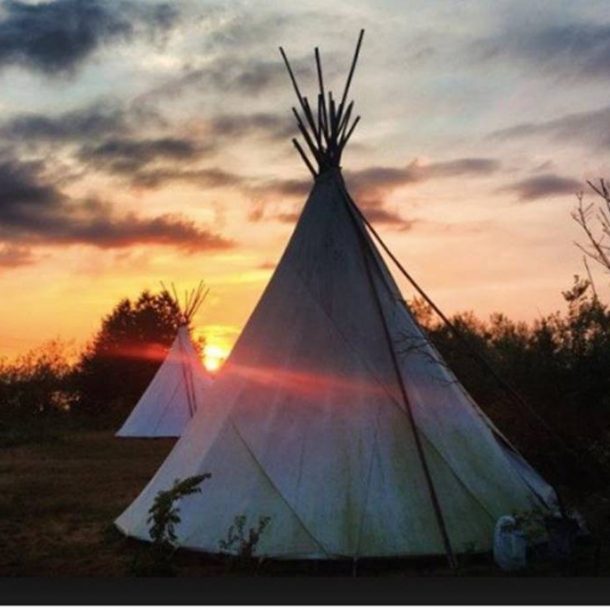 Flower House Spirit Island
The fourth edition of the Flower House Spirit Island Weekend
Yes, it is going to happen again, the sweetest, smallest and largest Flower House mini festival on the beautiful spirit island is going to take place again.
We meet again at one of the most special places in the Netherlands … our own private island in the Veluwemeer with teepees and yurts and our own harbor.
Together we will make a beautiful, loving gathering. Together with the children we make an inner journey in a playful and vulnerable way. A wonderful program with yoga, sharings, meditation, swimming, music, kickboxing, breathing, eyegazing, bodywork, ceremonies and more heart opening activities.
And also relax and sleep in the hammock, tipi or yurt. Good food, no alcohol!
There are a limited number of sleeping places in the teepees and yurts. Guests of previous editions have priority when booking.
Yoga Pilgrimage Mystical India
With Afke Reijenga, Arjuna van der Kooij and Nienke Schipper-Pauw
Many participants have experienced the intense beauty of this 10-day pilgrimage. Read some references down the page and check out the Mystical India albums in our photo gallery.
If you are curiuos about the mystical rituals and wonders of India, interested in the deep wisdom behind yoga, open to spiritual growth and willing to look at the world from a different perspective, this is absolutely your journey. Also when you are "not a group traveler".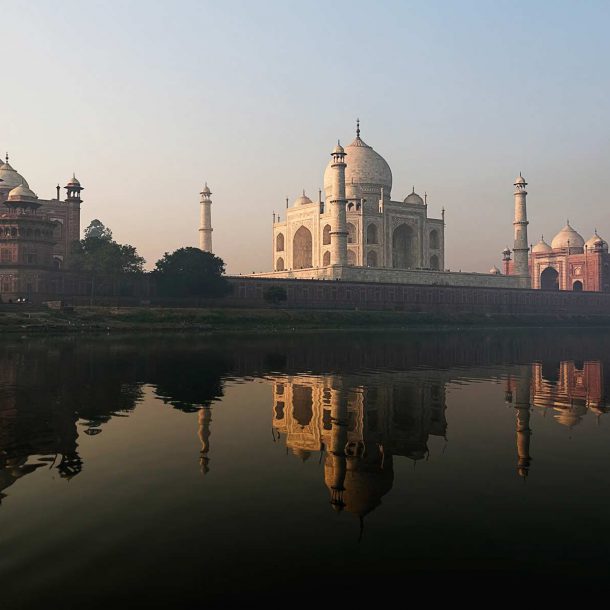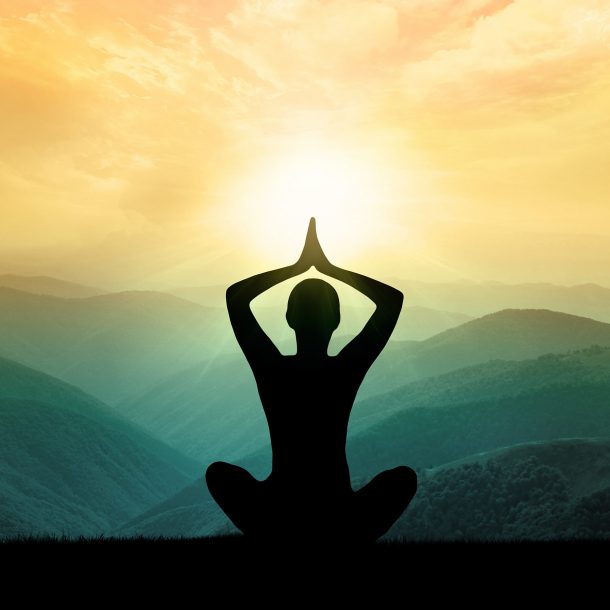 We will visit four of the main pilgrimage places in North India: Rishikesh, Haridwar, Varanasi and Vrindavan. Each one of them has a specific value and we tune into a different path of yoga in each area. We will investigate the relevance of Hatha Yoga (physical exercise), Jnana Yoga (holy scriptures), Karma Yoga (selfless service) and Bhakti Yoga (devotion to Love/God)
We have daily yoga & philosophy sessions, practice meditation on the banks of the sacred Ganges, meet with sadhu's, visit ancient temples, meditate in sacred Himalayan caves and dive deep into the wonders of Yogic India—most of them off the beaten tourist track.
Traveling with us will make you feel safe, comfortable and provided with anything you need. Transport, accomodation and meals being arranged saves a lot of hassle so you can focus on the experience. The traveling schedule is intense but there will be enough time for peaceful reflection and to let our experiences sink in. We sleep in beautiful places with an authentic Indian atmosphere.
For more information please visit http://afke.org/portfolios/mystical-india/ and to sign up send an email to info@flowerhouse.nl